---
Callsign Registration Instructions
for the WA7DRE gateway
---
These instructions will show you how to request approval, and then complete the registration of your callsign for use on D-STAR.
Registering your callsign on multiple gateways will cause problems on the D-STAR network. If you are already registered on another gateway, we can't allow you to become registered on our gateway.
If you are unsure if your callsign is already registered, you can check yourself here:
https://wb1gof.dstargateway.org/cgi-bin/dstar-regcheck
Registration proceedure overview:
Request approval for registration by filling out the online application
Notify the admins that you are awaiting approval
Wait for the notice of approval
After your request is approved, log in again to complete the registration
Create a Space-ID terminal
Logout and use D-STAR
Visit our Registration Page to request registration on our gateway:
https://wa7dre.dstargateway.org/Dstar.do
---
Detailed, Step-by-Step Instructions Follow
Before you start: If you are new to D-STAR (new registrants usually are) please follow these instructions exactly as shown here. Please do not deviate from these instructions unless you know what you are doing. The operators of the WA7DRE repeater and gateway cannot explain all of the reasons for each of the steps. These steps will get most people going with their D-STAR transceivers and hotspots for use with world wide repeaters and reflectors.
---
Step 1:
Go to the
registration page
using the link above, you should see this: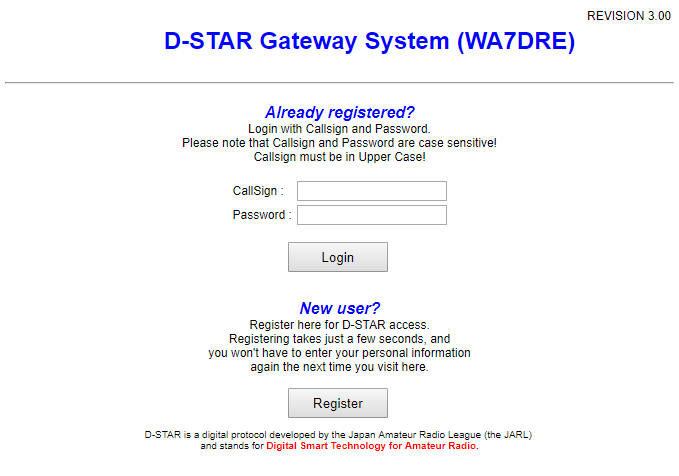 Click on the Register button near the bottom of the screen.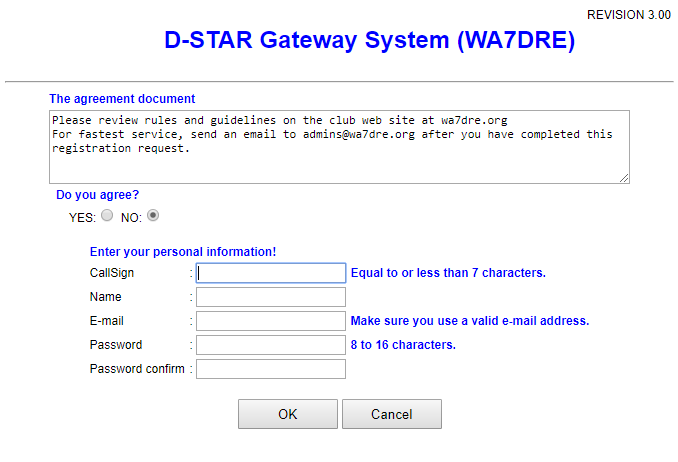 Fill out the form to request approval for registration. You must agree to the conditions of use. Use all upper case for your callsign. Be sure to remember your password. We cannot recover it. If you forget it or lose it, we can only delete your registration and start over. Then click OK.
You have now created an account and requested approval to complete your registration, BUT...YOUR REGISTRATION IS NOT COMPLETE.
Step 1 is complete. Now send an email messaage to
sysadmins@wa7dre.org
so we know you are waiting for approval. Proceed to Step 4 after your have recieved notice that your request has been approved. We will always notify you by email when we have reviewed your request. The admistrators will verify that you are not already registered at another gateway or registration server, and that your FCC issued callsign is current and valid.
IMPORTANT: Even after you have received notice that we have approved your REQUEST for registration, your registration is STILL NOT COMPLETE. You cannot yet use D-STAR. You must perform the following steps to complete your registration.
Step 4:
Log in again, using the link above. Login with your callsign in upper case characters, and the password you entered when you requested approval for registration.
Click on Personal Information near the top right of the page. It should look something like this: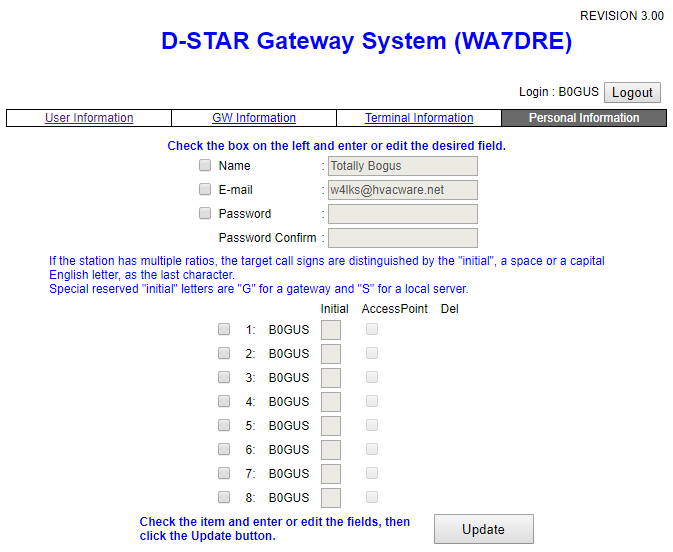 Step 5:
Click the check box to the left of your callsign at line number 1. Move the cursor to the box under Initial on that same line. Type a single SPACE character by pressing the space bar on your keyboard ONCE. Nothing else. Do not put anything else in that box unless you know what you are doing. This will create the so-called Space-ID entry that every D-STAR user should have.
DO NOT check the AccessPoint check box unless you know what you are doing. This has nothing to do with setting up, or using a D-STAR hotspot. This is only for use with the Access Point and Terminal Mode features of newer ICOM tranceivers. These features are seldom used in the United States, and are usually used only in Japan.
Click the UPDATE button. Another confirmation box will appear.
If you know what you are doing, you can create other terminals using other single characters to be used for special circumstances. Most users only need one terminal...the so called Space-ID terminal that is described above.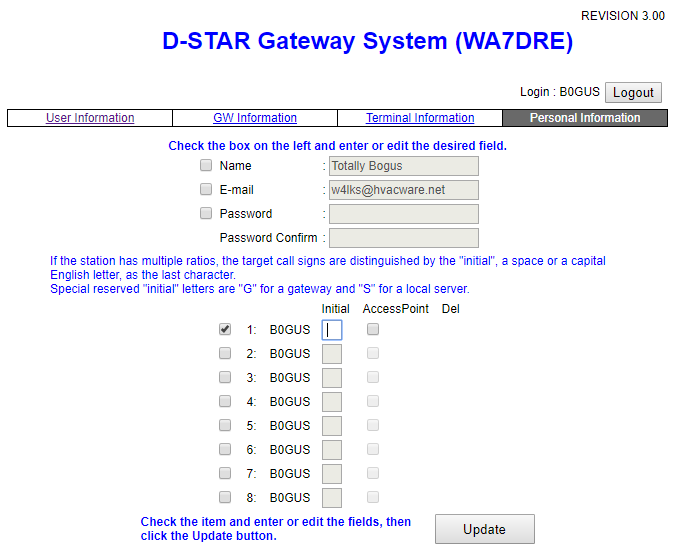 As of December 2018, The Google Chrome Browser does not like the scripting code used by the ICOM server software in these pages. If you are using Chrome, you may get an error message like this: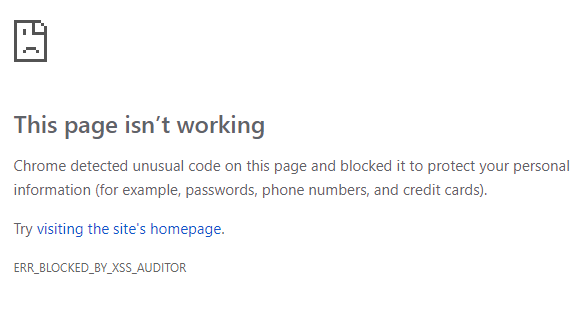 Not to worry, the updates you have made are saved, just click the back button on your browser. If necessary, you can log out and login again. You will see that the updates have been made. Using any other browser does not cause this error.
Your Personal Information page should now look like this: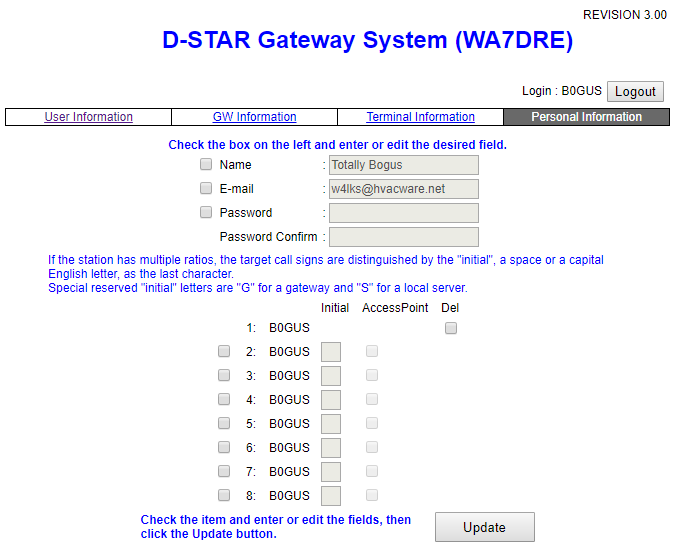 Notice that the SPACE character under initial is invisible. That is normal.
If you goofed up and need to change it. Just check the delete box for line 1, and hit update. Then you will be able to create a new line 1.
Your callsign registration should now be complete and valid. You can now logout and use D-STAR. If you want to verify that your registration is valid, you can use the
above link
to check your own registration. Keep in mind that it may take an hour or so for the callsign database to be replicated to all registration servers throughout the global D-STAR network.
Thank you for registering your callsign on the WA7DRE gateway. Enjoy using D-STAR!
---