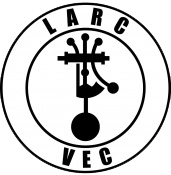 Amateur Radio License Testing Information
The Washington Digital Radio Enthusiasts supports local amateur radio license testing in the Spokane Area. In conjunction with the
Laurel ARC Volunteer Examiner Coordinators
and
Action Recycling
, we offer testing for those who wish to obtain a new amateur radio license, or upgrade their existing license. A local team of volunteer examiners, coordinated by Glen-K1RR, will administer the tests, and register your results with the Laurel VEC, which will be reported to the FCC.
Testing Schedule:
Generally, testing occurs on the third Wednesday of each month. Usually at 6pm local time, at Action Recycling, 1027 E Marietta Ave. in Spokane. If warranted, special sessions can be arranged for groups, or special times. Contact Glen by email (glen@k1rr.com) for more information.
Testing Cost:
The LaurelARC VEC and the local volunteers who conduct the testing, do not charge any fees. Persuant to FCC Order 20-184, adopted by the FCC on 23Dec20, the FCC has indicated that a $35 fee will be collected to process your application and approve your license or renewal. It is your responsibility to pay the FCC fees. The local examiners will not collect the fees and pay them on your behalf.
The $35 fee for licensing and renewals may begin soon. The FCC has not yet indicated a start day for collecting these fees. When they start, you must pay any FCC licensing fees BEFORE coming to the test session.
Covid 19 Restrictions:
We are taking measures to meet in person safely and conduct testing in a way that follows reasonable safety precautions to help prevent the spread of the COVID-19 virus. We are following state and local recommendations as they may change from time to time. Currently, we ask that you wear a mask if you are not vaccinated.
What you should bring:
If you already have an amateur radio license:
Bring a copy of your license if you can. We will at least need to know your existing callsign or FRN number.


For new licensees:
You must obtain a new FCC Registration Number (FRN number) from the FCC before we can process your application and allow you to sit for a test. You can obtain an FRN number from the FCC web site at https://apps.fcc.gov/cores/. If required by the FCC, pay any fees to them at this time. Bring the FRN number with you to the testing site so we can confirm your registration.


If you are not vaccinated for COVID-19, please bring a mask to cover your nose and mouth. You may need to wear a mask even if you are vaccinated, depending on local or statewaide restrictions.


Bring a pencil or pen so you can mark the test sheet.


Bring picture ID. We cannot allow you to take the test unless we see your picture ID. Usually your state drivers license will do. Or an equivalent state or government issued ID card or passport. School age kids can use their school ID cards.


You may bring a basic or scientific calculator. If the calculator is programmable, or is capable of storing any type of information, we will want to see you reset it to factory defaults which will erase any programs or data it may contain. If you want to use a programmable calculator, be sure you know how to reset the calculator. You CANNOT use your cell phone as a calculator during this examination.


Please leave your cell phone in your car. You can't use it during the test. If you have a "Smart Watch" that communicates with your cell phone, leave that in your car too. Bluetooth headsets or ear buds are not allowed either.


Felony conviction question:
There is a requirement for you to indicate if you have ever been convicted of a felony. You will be asked about the felony conviction history during the FCC registration process and before you receive the FRN number. If you do have a felony conviction on your record, you will be required to submit an explaination to the FCC (NOT to the local test administrators) and you still may be allowed to obtain an amateur radio license, depending on the severity of your felony. You may obtain the FRN number, and take the test, but the issuance of a new amateur radio license will be delayed until your explaination is approved by the FCC. Instructions for submitting the explaination will be given to you when you apply for the FRN number.

After you have paid any applicable FCC fees, obtained an FRN, and studied for the test, please contact Glen by email to schedule a date for the test. You must let him know in advance.
We cannot accept walk-ins.
Contact Glen by email (glen@k1rr.com) for more information.
After you have taken the test, and you pass, your new amateur radio privilages will be available to you as soon as your results are uploaded to the FCC from the Laurel VEC and are accepted by the FCC (unless you have a felony conviction to explain). Usually that means by the day after the test. Sometimes as soon as the evening of the day of the test. You should watch the FCC web site (Universal Licensing System) for notification that your new callsign has been assigned, or your operator class has been upgraded.
Here are some suggested license information and test study sites: